Louis C.K. and Cellphones; Jesus and Wine
If you haven't seen it yet, I suggest you borrow 4 minutes from your day to listen to this mini-sermon delivered by comedian Louis C.K. on Conan. [youtube=http://www.youtube.com/watch?v=5HbYScltf1c&feature=share]
In it, he reflects on the parenting decision to NOT let his girls have cell phones. Which, in a (crude) nutshell he says that parents often struggle with the idea of, "well, all the other kids have a phone... so my kid has to, too."
To which Louis says, how about you let YOUR kid be the better example to the other kids. "Just because the other stupid kids have phones, doesn't mean my kid has to be stupid in order to not feel weird."
A bit harsh, but that's Louis.
The real gold comes, though, when he unpacks how he feels in general about cell phones. About how they are toxic, and how they shield us from dealing with that existential angst in our soul that threatens to remind us that we are alone.
We are so afraid of being alone, admitting that we have a "forever emptiness" in us (as Louis says), that we turn to the crutch of our phone to instantly "connect" with someone else.
Which is all well and good, and I think just THAT naming of reality makes this video worthwhile. Because yes, my cell phone is what I turn to when I don't want to just sit with "me."
Yesterday I walked my three oldest boys down to a block party. We arrived at the tail end of the party, so the bouncy house was largely vacant. My boys wasted no time in filling that empty space with screams, yells, Power Ranger kicks, and other such shenanigans. I meandered over to where I heard my name being called... whispered... summoned.
The free beer.
Filling up my cup with a nice Pale Ale from Thorn St Brewery I surveyed the party area and recognized no one. Content with this discovery (because I am, after all, socially awkward at times and definitely not good at small talk or meeting new people) I took my cold draft and walked back to the bouncy house.
Though I WANTED to go inside and join my boys, I decided they were having too much fun to risk being kicked out because of me. So, instead, I sat down on the sidewalk and just watched them bounce.
And you know what my hands INSTANTLY did, once I sat down?
Likely the same thing YOURS do: reach in my pocket for my phone.
Sadness then hit me when I unlocked my phone and discovered I only had 10% battery left. I thought, "dang... I don't know how long I'll be here, so I better conserve this 10%. Who knows how long it will have to last me. I'll check email and FB now... wait a few minutes... then check football scores... wait a few more minutes, then maybe post an Instagram..."
I didn't want to just sit. Alone. With just 'me.'
Let alone (obviously) go out and mingle with people. Yeesh.
So yeah, Louis, I'm tracking with you. Cell phones medicate us from having to just be with "us."
But he doesn't stop there.
He tells a story about driving down the road, alone, and suddenly becomes overwhelmed with a sense of sadness. When he felt it coming his FIRST instinct was to grab his phone and start texting people. To connect with someone. To not feel alone, or sad.
Instead, he rejected that instinct, and chose instead this:
"Just be sad. Just let the sadness... stand in the way of it, and let it hit you like a truck.... I pulled over and I just cried... I cried so much... and it was beautiful... sadness is poetic, you're lucky to live sad moments. And then I had happy feelings because of it. When you let yourself feel sad, your body has antibodies. It has happiness that comes rushing in to meet the sadness. I was grateful to feel sad, and then I met it with true, profound happiness... and because we don't want that first bit of "sad," we push it away [with things like our cell phones]. (editor's note: He mentions other things we do to distract ourselves, and it's funny, but I don't feel like typing it. HA!)
And I just find all that so absolutely, beautifully, and truthfully profound.
We don't want to be sad. We don't want to feel alone. And our phones are wonderful happy devices that connect us instantly.
But more than just phones, we live life like this. We try our damnedest to avoid feeling sad. And when we do, we certainly don't elect to "just stand there and let it hit us like a truck."
If you need confirmation about this human reality, just listen to the audience when Louis is talking. You can hear the crowd laughing as Louis is telling his story. And yes, partly because he's funny, but mostly you can sense it's a nervous laughter.
It's the type of laughter when you've just been exposed, and it's uncomfortable.
But we do that, don't we? We avoid facing the full trauma of our sadness. We numb ourselves.
I'm reminded of Jesus on the cross. In Mark's gospel he tells the story of Jesus' humiliating walk to Golgotha. And shortly after Simon of Cyrene is grabbed from the crowd to carry the cross for Jesus, Mark says, "The soldiers offered Jesus wine mixed with myrrh to dull his pain, but he refused it." (Mark 15:23 The VOICE)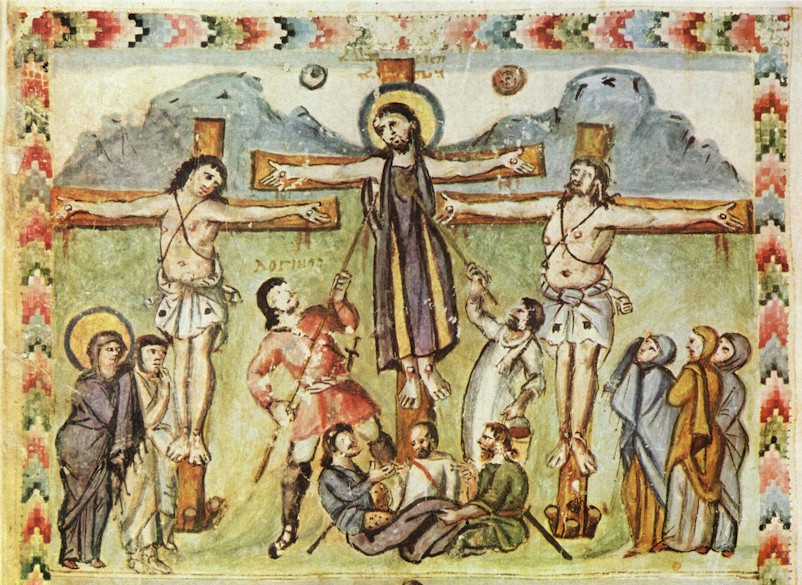 Jesus had the option to take the edge off. To dull the pain a bit. To medicate. To grab the cell phone and avoid feeling sad. Alone.
But he refused it.
And I think that point is important because Jesus' knew on some profound level that he had to fully be present and fully face the upcoming sadness. He needed to face the full force of the trauma that was happening.
To truly absorb the weight of humanity's collective wickedness, to fully expose the myth of violence, to ensure a defeat of the powers of sin and death, and to thoroughly demonstrate the weak power of love, mercy and sacrifice, Jesus had to just be sad.
This full engagement with the trauma allowed then for a complete and total break through on the other side.
Resurrection.
And resurrection can ONLY come after we have endured the tragic. Resurrection comes after death.
In the words of Louis, "happiness comes rushing in to meet the sadness."
But the happiness won't come if we refuse to engage the sadness.
Resurrection life becomes merely a half-dead, barely-living, zombie type of existence if it isn't first accompanied by a full embracing of the tragic.
I wrote this post a while back about the experience of losing something. And I concluded with these words, and I still like them, and it sort of applies to this post:
If we lose something in life that was dear to us, and we are sincerely led to believe that God was involved in the process of initiating or directing this loss, then let us choose to first engage with that loss. Experience it. Know it. Let it stare at us in the depths of our soul and let us not move on to quickly. But when we do, when we begin to move from crucifixion to a time of resurrection, then let us begin to believe that no matter what comes next, whether or not what we initially lost will ever be replaced, that we will be better because we engaged with Christ and participated in his crucifixion and are now living in his resurrection. And that, ultimately, is life.
Thank you, Louis, for making accessible such a beautiful spiritual truth.
Be sad, my friends, when sadness comes. Don't reach too quickly for the cell phone, don't numb the pain with wine and myrrh. Like Louis said, "you're lucky to live sad moments."
Because the eternal life (abundant life, life of the ages, or, as Louis names it, happiness) that is waiting for you on the other side is infinitely better than numbness, avoidance, or pretending all-is-fine.